Romeo eco cat toilet Green 57x39x41cm
Specifications:

Eco-friendly product made from 100% recycled material

Enclosed cat litter tray provides privacy

Active carbon filter helps prevent unpleasant odours

With transparent self-rotating flap

Hygienic - washable

Description:
The duvoplus Romeo cat toilet is made from eco-friendly recycled plastic. Empty PET bottles can be collected and recycled to make re-generated plastic for new products like this cat litter tray. The eco-friendly products in the duvoplus range are easy to spot - look for the green ECO label on the packaging. The Romeo is an enclosed cat toilet. This ensures your cat has optimal privacy. The carbon filter prevents unpleasant odours from spreading around your home. The ventilation grille on the top ensures that there is plenty of oxygen. The transparent self-rotating flap makes it easy for your cat to go in and out of the toilet. This plastic cat litter tray has a modern look and is easy to clean and very hygienic.
Variations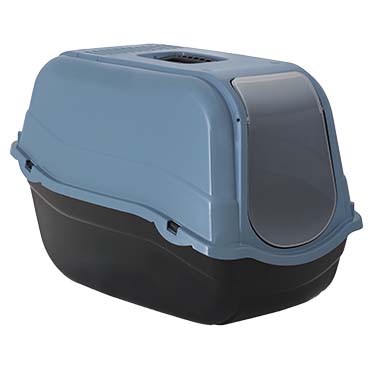 Romeo eco cat toilet Blue 57x39x41cm
Available sizes
Item code
Dimensions
Finish order
Art. code: 12364
Ean: 5414365354169
57x39x41cm
Order online