Kooi tess two level deluxe Blue 39x33x44CM
Specifications:

Deluxe 2 storey cage

With food bowl and water bottle

Exercise wheel and tunnels

Removable lid with handle

Suitable for all small rodents

Description:
This Tess Deluxe cage from Duvo+ is a quality 2-level plastic cage comprising a drinking trough, a walkway, a shelter and tunnels. The ideal home for your hamster. The upper section is equipped with a handle and is removable for easy cleaning. The cage has a small door at the front and several ventilation holes suitable for small rodents.
Variations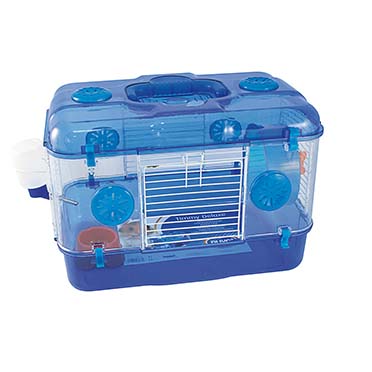 Kooi timmy one level deluxe Blue 39x26x28CM
Available sizes
Item code
Dimensions
Finish order
Art. code: 100116
Ean: 5414365062347
39x33x44CM
Order online